Befriender Match Spotlight
Meet Lee and Allen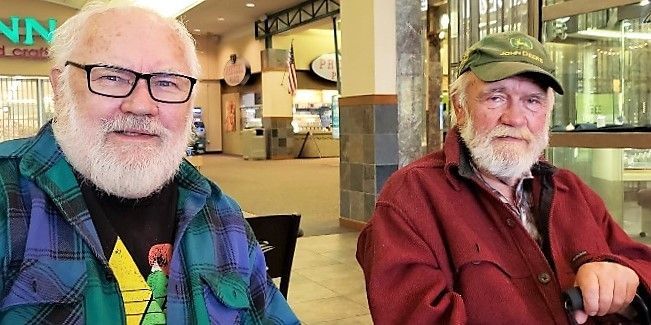 Lee Dietrich has volunteered with Befrienders since 2019. After working as a counselor and social worker in Duluth, Minnesota and retiring from Hibbing Community College where he was the Dean of Student Services, Lee and his wife moved to Bozeman in 2016 to be closer to their son and his family.
As a mentor, counselor, and volunteer, Lee has worked with many underprivileged groups. He has learned alot about those that struggle and has focused his attention on helping those he can. He had long been a volunteer with Meals on Wheels and the Help Center doing Telecare. It was with these two programs where he experienced how social isolation tragically affects the health and wellbeing of our seniors, especially during a pandemic. That is when Lee decided he wanted to do more to help our lonely seniors and became a Befriender volunteer (so did his wife, but that is another wonderful story in itself).
The Help Center's Telecare program helps homebound seniors by making regular phone calls to them for emotional support and medication reminders. Befrienders and the Telecare program serve many of the same seniors, so when Lee was matched with Allen Wernberg. Lee realized that he already knew Allen from calling him regularly through the Telecare program he volunteered for!
Lee and Allen have been Befrienders for nearly two years now, meeting nearly every week for a nice walk around Bozeman Ponds or on inclement days they move inside the mall to walk and then stop for a cup of coffee and some good conversation.
Allen has had a very rewarding life as a cabinet maker, carpenter, and later doing facility maintenance for Gallatin County. He had always enjoyed hunting and fishing with his wife, but unfortunately Allen's wife was taken from him by Alzheimers & Dementia three years ago. He had lost his soulmate and found solace from his grief by writing poetry and buying a sewing machine and teaching himself how to quilt. He has written a series of poems about loss and the toll of Alzheimers and has made many quilts using the fabric from his wife's favorite clothing. He has expressed his heartfelt story through means he had never explored before, poetry and quilting.
Now as he explores life after his wife's passing, he tries to stay busy and stay social whether going to a class at Bozeman Health, coffee with his neighbor, or his time with Lee walking and chatting.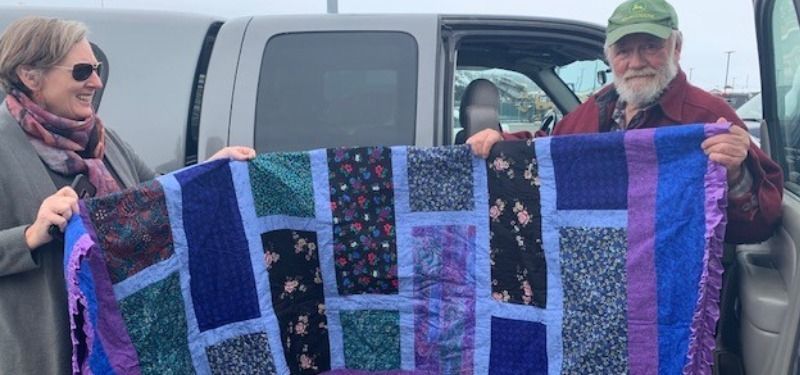 Lee and Allen share a genuine bond of friendship, laughter, and admiration.  It is in those conversations that Lee has learned of the incredible life Allen has led and all the talents he still has to share. In addition to being a poet and quilter, Lee can tell a great joke, so if you are ever in need of a good laugh, just look for Lee and Allen at the mall, having a cup of coffee and chuckling over one of Allen's jokes.
We are honored to share one of several beautiful poems Allen has written on Alzheimers.
My Caregivers Poem
I'm a caregiver too,
So I'm writing this poem,
I am looking for you,
Can't find you at home.
Where have you gone?
I don't see you here.
Your friendship I long,
But you are not near.
Your mind from you was taken,
By some terrible disease
That can never be shaken.
Can someone help her please?
My pain is so great
Makes it so hard to go on,
Since I have lost my soul mate
To this terrible condition.
WE once took a vow
To stay with each other,
But what I don't know now,
Why this has happened to my love.
My life will continue,
Without her I'll be sad
I shouldn't go on being so blue
Will try to remember the good times we once had.
By Allen Wernberg