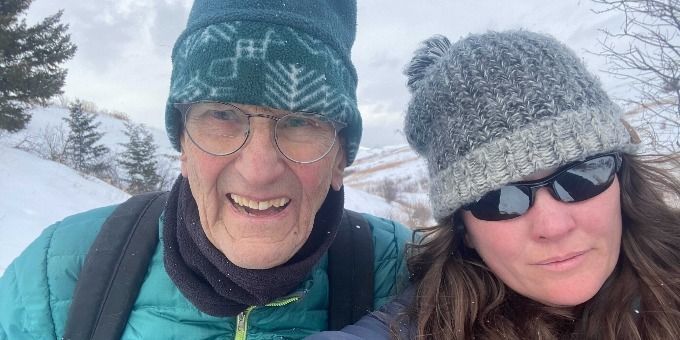 Jim and Aeryn were matched after Jim's wife, Mary Alice, who was a senior participant in our Befrienders program, passed away recently. Jim writes that he and Aeryn "first met one another for dinner in early February of this year.
She and I began with our first hike on February 16th. I wasn't sure if Befrienders would be able to find someone willing to go on outdoor activities considering my age. Thankfully, I was wrong. 
I like to get out into the mountain on my four-wheeler in the summertime and go canoeing on the rivers. I also enjoy some hiking in the mountains. I thought it would be difficult to find someone who enjoys similar activities. Then Befrienders introduced me to Aeryn. She is a rock-climbing enthusiast, owns an 18-foot canoe, and does some cross-country skiing and snowshoeing in the winter. Aeryn had taken me hiking in the snow, snowshoeing, hiking up Drinking Horse Mountain as well as hiking up the college "M." 
"And, guess what, we get along wonderfully. She is not just a Befriender, she is a friend. This is just what I needed as my wife passed away in early December of 2020."
When Aeryn was asked about Jim, she said, "I am so enriched with Jim in my life! He is so sharp and witty, and Jim's knowledge of the mountains, area and history is amazing." She loves having him come to her home for BBQ's, but their love for the outdoors has kept them busy hiking, fishing and exploring the backcountry with Aeryn on her dirt bike and Jim in his ATV.
We also want to celebrate that Jim has been a kind and consistent donor to Befrienders, both during the time Mary Alice was in the program and thereafter. Our deepest thanks to Jim for his support, not just financially, but as a cheerful and engaged participant in his own right.